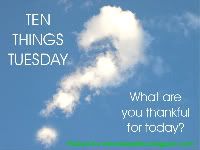 1. I woke to the wind, from an open window, slamming the bedroom door against the jam. The wind was warm and I was happy to hop up and quiet the door.
2. I was the only one who heard this wind so I quietly crept downstairs for 30 minutes of solitude before the chaos of the morning ensued.
3. I took the dogs outside to do their very important business and marveled at the wind as it tossed about the trees that were magnificent but still without leaves.
4. I welcomed my son as he was the next one to greet the day. He wanted my attention so I closed the laptop.
5. I smelled his breath that is becoming more like big boy breath and less like baby breath. Bittersweet.
6. I dropped my oh-so-independent 2yr old at preschool. Bittersweet again.
7. I had an awesome workout. One of the benefits of preschool.
8. I stopped by to see my extremely hardworking husband and was awed by his ability to still impress me.
9. I showered in peace while my daughter napped and I never ran out of hot water.
10. I basked in the sun of a most perfect spring day.