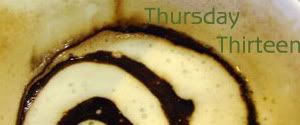 Thirteen Things I Should Be Doing Other Than This
I didn't blog at all this week because I felt I was spending way too much time blogging and/or thinking about what I would blog about the next day. I miss it . . . but do I miss it the way I miss online porn or the way I miss something really meaningful? I'm just kidding about the porn. Really. I should have used American Idol as a metaphor.
I should be . . .
1. doing laundry
2. cleaning up dog shit
3. exercising
4. switching out winter clothes for spring
5. organizing the toys in the playroom
6. writing thank you cards
7. reading an inspirational book
8. putting my children to bed
9. taking a shower
10. cleaning the kitchen
11. bl*g my husband
12. catching up on my correspondence
13. ironing
With the exception of one item on that mind-numbing list I think I should have just decided to blog.
Get the Thursday Thirteen code here!


The purpose of the meme is to get to know everyone who participates a little bit better every Thursday. Visiting fellow Thirteeners is encouraged! If you participate, leave the link to your Thirteen in others' comments. It's easy, and fun! Trackbacks, pings, comment links accepted!

View More Thursday Thirteen Participants